Over a history of nearly 30 years, Gulfood – the largest fair in the world for food and beverages is considered a golden opportunity to approach the potential spice export market in the Middle East – Africa. Introducing the exhibition booth at Gulfood Dubai 2023 from 20th – 24th February 2023, Phuc Thinh Import-Export Investment Joint Stock Company (PTEXIM) exhibited many typical products, contributing to promoting the brand of Vietnamese agricultural products on the international market.
A big chance
Five days of the event, Gulfood Dubai 2023 attracted the participation of more than 5,000 businesses (1,500 participants for the first time) from 125 countries in 08 food and beverage sectors, displaying more than 100,000 products. The exhibition area increased by 30% compared to previous years, to more than 1 million square meters, attracting nearly 100,000 visitors. Right after the first day of the exhibition ended, His Highness Sheikh Mohammed bin Rashid Al Maktoum, Vice President and Prime Minister of the UAE, said: "The last session witnessed agreements worth 36 billion dirhams, and we look forward to a successful new session."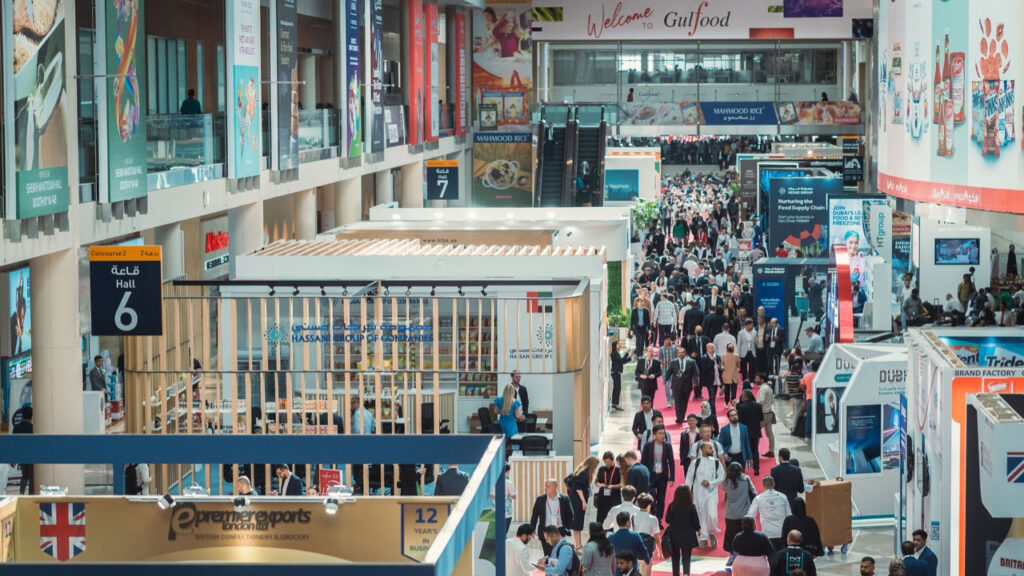 Gulfood Dubai 2023 is a trading opportunity for businesses to find, meet and shake hands for cooperation. In addition to conferences on an essential industry topic and providing practical solutions in the F&B sector, Gulfood has many fascinating side activities such as participating in cooking classes led by Michelin-starred chefs, Top Table, Gulfood Zero Waste, Tastes of the World and Brewers Cup…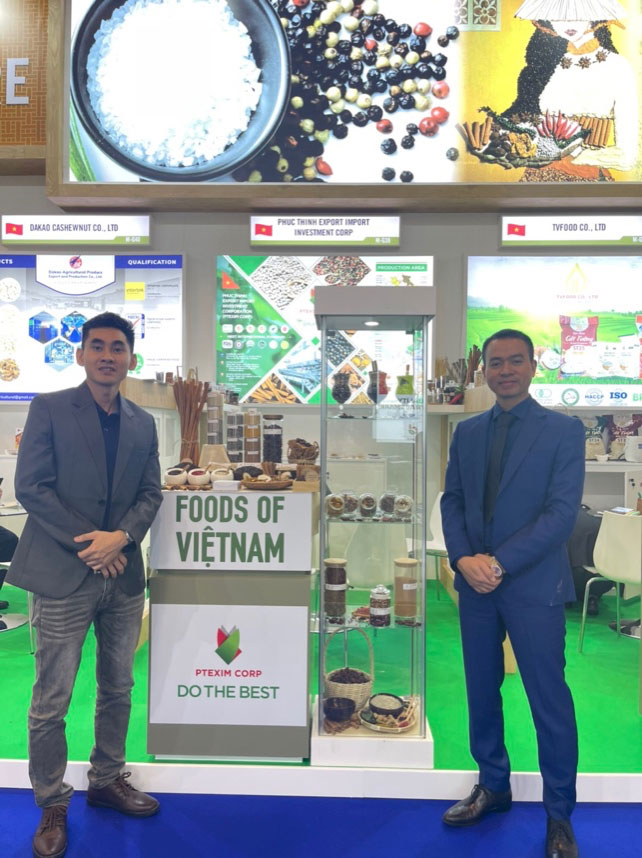 To participate in Gulfood, typical enterprises in each industry of Vietnam must be selected and evaluated by the Center for Agricultural Trade Promotion – Ministry of Agriculture and Rural Development. Accordingly, the PTEXIM CORP booth received many positive feedbacks, attracting numerous visitors. In particular, the pepper, cinnamon, and anise products are trusted by many businesses to choose to sign as supply partners.
Big challenge
According to a representative of the Vietnam Trade Office in the UAE (United Arab Emirates), in 2022, Vietnamese pepper products account for 60% of the UAE import market share, with a turnover of about $58 million. However, this is a fiercely competitive market in terms of price and quality. Every Monday, UAE importers look at the prices offered by the countries sent to them, when higher prices will not be acceptable, and even businesses that are exporting to the UAE in this week, but next week may lose orders.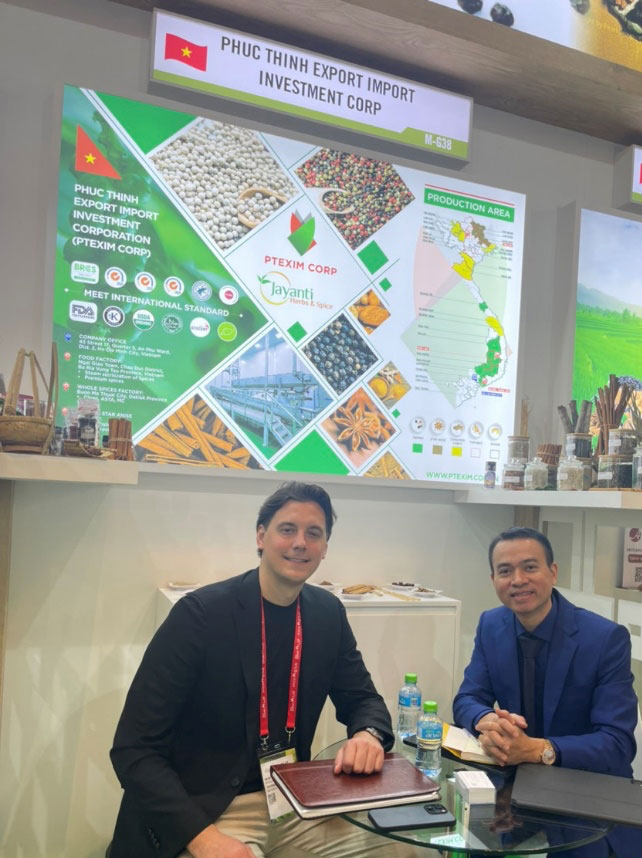 Besides, UAE is an Islamic country, and most food and beverages imported into the UAE must have Halal certification. Labels on food packages should be translated into Arabic and state the name, origin, and content etc..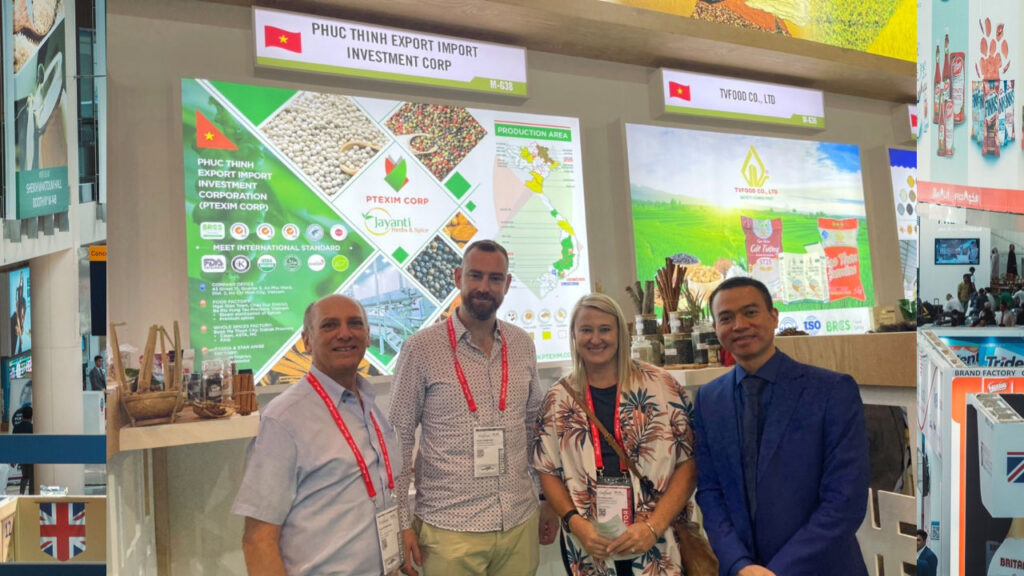 In order to promote the plan to develop the Middle East – Africa market, businesses must create a balance between quality and competitive prices. As a reputable spice exporter that meets international standards of BRC, ISO, GMP, HACCP, USDA ORGANIC, RAINFOREST ALLIANCE, SEDEX, HALAL, KOSHER, VALIDATION CERT… PTEXIM aims to constantly innovate and apply hi-tech agriculture to diversify the chain products, improve quality and reduce product costs, ensure the best interests of consumers, and join hands to affirm the position of Vietnamese agricultural products in this market.