After a rigorous evaluation process by an independent unit, Phuc Thinh Export Import Investment Corporation (PTEXIM CORP) continues to be awarded the certificate of recognition for sustainable agriculture standards by the prestigious international organization Rainforest Alliance. This is the second year PTEXIM CORP continue has achieved this certification.
From the end of March 2022, the independent unit Preferred by Nature conducted the 2nd year assessment according to the international sustainable agricultural standards Rainforest Alliance at PTEXIM CORP Factory and raw material areas in two districts of Dak R'lap, Dak Song (Dak province) Farm.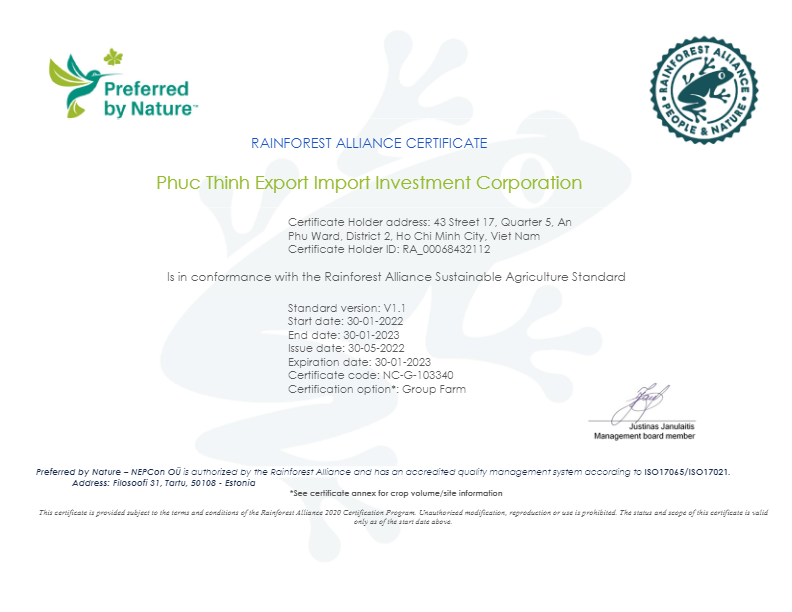 This year's assessment program has many updates and changes. Consists of three main parts that work closely together: sustainable agriculture standards, certification assurance system and data systems. Accordingly, the direct comprehensive assessment during one week is based on six criteria: Management – Planning; Product traceability; Collect – Share responsibility; Culture; Society; Environment.
For seven consecutive days, the Auditor worked with a serious and urgent attitude, performing professional operations at the Factory as well as surveying and auditing the actual sample of pepper farmers. Representatives of PTEXIM CORP Internal Management Board closely coordinated and provided the necessary documents to complete the General Reported. To date, the 2nd year certificate of Rainfores Alliance Certification has been awarded to PTEXIM CORP. Due to the impact of the Covid-19 epidemic, the time for recognition of the certificate this year is later than the usual schedule.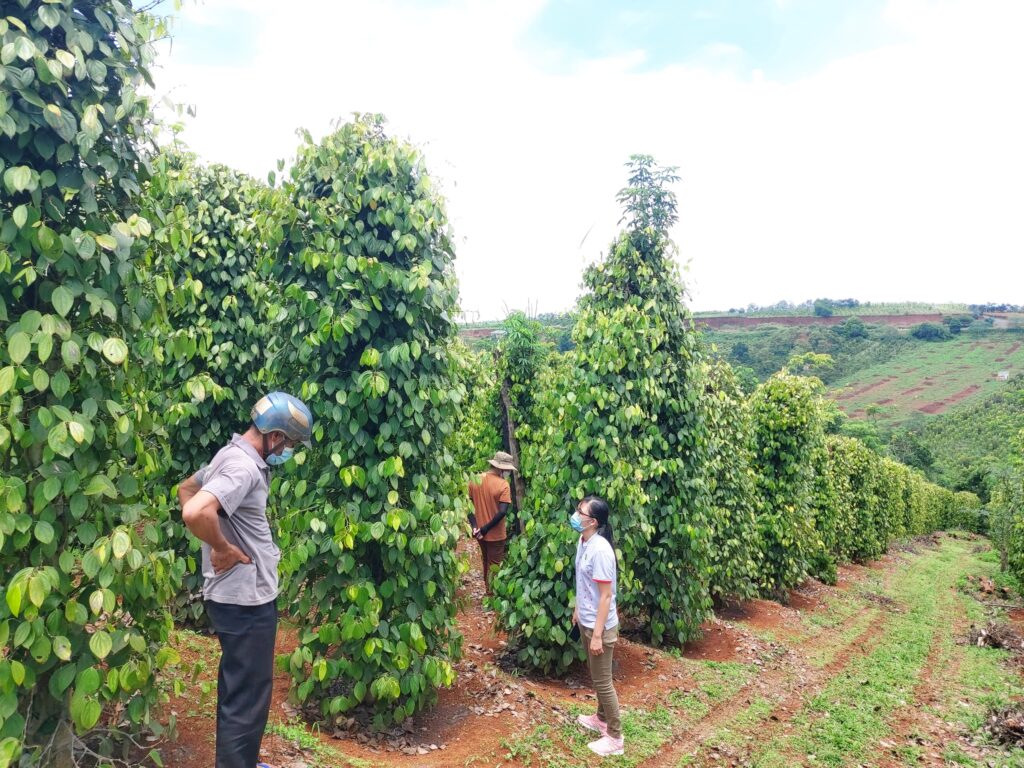 After 34 years of development, more than 70 countries and 5,000 companies have implemented the Rainforest Alliance standard. This certified product is recognized by 170 countries, including the US, Europe… At the same time, there are about 2.3 million farmers and 6.8 million hectares of land participate in the program to achieve environmental certification for forestry, agriculture, and sustainable tourism.