Recently, Phuc Thinh Import-Export Joint Stock Company (PTEXIM) collaborated with the People's Council Office and the People's Committee of Chau Duc district (Ba Ria-Vung Tau province) to support funding for the implementation of the Health Insurance Card distribution program for people in difficult circumstances in the district in 2023.
Sharing the burden of healthcare costs
The program of distributing Health Insurance Cards is one of the meaningful social activities actively launched by localities nationwide to share the burden with people in difficult circumstances when seeking medical treatment. This program aims to contribute to increasing the coverage rate of Health Insurance, reducing the path towards universal health insurance.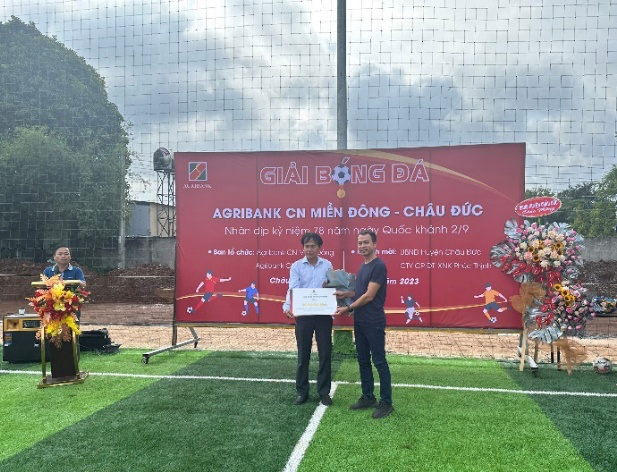 PTEXIM's leadership representative presenting funding for Health Insurance Cards to the representative of Chau Duc district government (Ba Ria-Vung Tau province)
According to statistics, there are still many cases in Chau Duc district who do not have the conditions to participate in Health Insurance. With the desire to encourage and support people in difficult circumstances, PTEXIM participated in this program to provide them with better opportunities to access and receive healthcare.
Although the value of each Health Insurance Card is not high, it is a practical gift that reduces a significant portion of costs when facing health risks. Receiving the Health Insurance Card, many people express their joy: "If unfortunately I get sick and have to be hospitalized, my family will worry less and be reassured that the State will support healthcare expenses."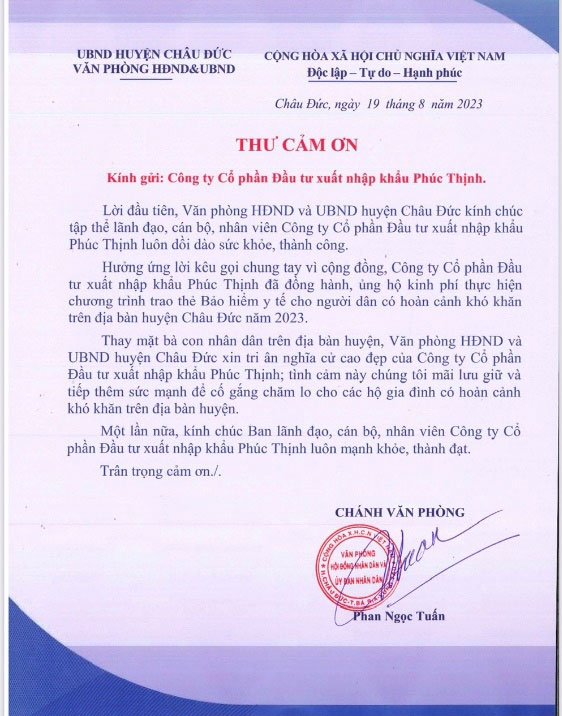 Thank-you letter from the People's Committee of Chau Duc district to PTEXIM
It is hoped that with this activity, the program will continue to have a positive spread and contribute to social security, improving the quality of life for people facing difficulties.
Participating in meaningful social activities
As a company that always emphasizes social responsibility, PTEXIM regularly participates in volunteer activities such as supporting disadvantaged children at the Children's Hospital in Ho Chi Minh City, sponsoring monthly scholarships for some underprivileged students in the central provinces of Nghe An and Ha Tinh…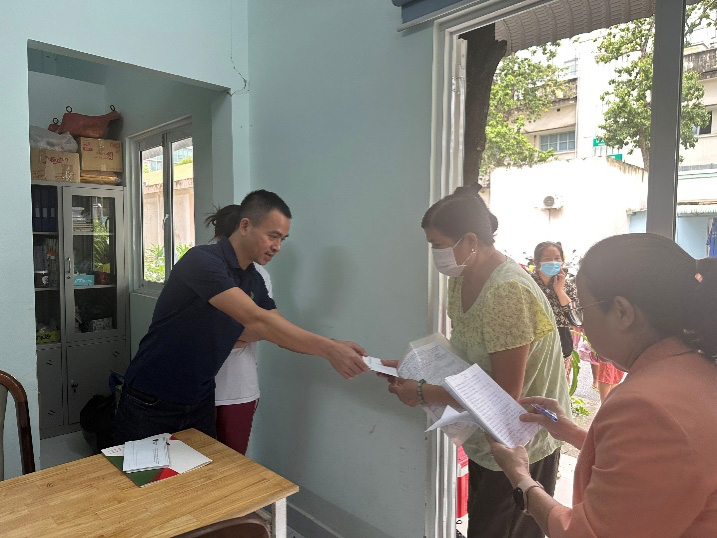 Sharing with people in difficult circumstances, emphasizing social responsibility
On the occasion of the National Day on September 2nd, PTEXIM participated in the Football Exchange Tournament with the Vietnam Bank for Agriculture and Rural Development, Dong Nai branch – Chau Duc and the People's Committee of Chau Duc district.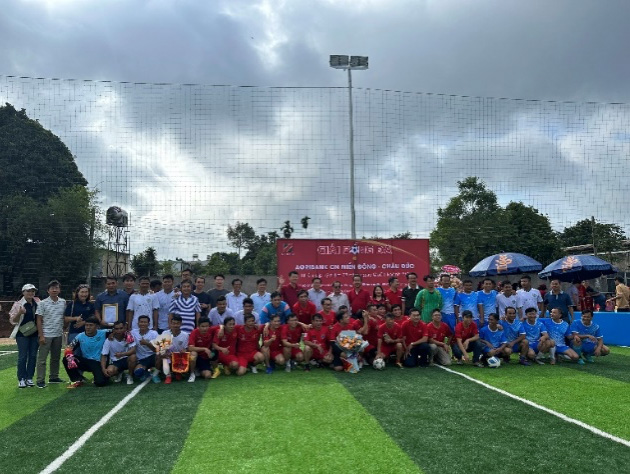 Football exchange, enhancing physical and team spirit training for PTEXIM's staff
This is one of the sports activities that promote physical fitness and foster team spirit that PTEXIM always provides opportunities for its staff to participate in. In addition to policies such as sightseeing tours, training to enhance professional skills, rewarding outstanding individuals, providing opportunities for career advancement…